This shop has been compensated by Collective Bias, Inc. and its advertiser. All opinions are mine alone. #SpookySavings #BOOItForward
#CollectiveBias
With Halloween, practically here, I wanted to share this Spooky Witch BOO Kit tutorial I created a few weeks ago. If you haven't already stocked up on Halloween candy, you can easily hover over the image below and click through to buy your MARS® Bat Bag &
MARS® Mad Scientist candy
from Sam's Club.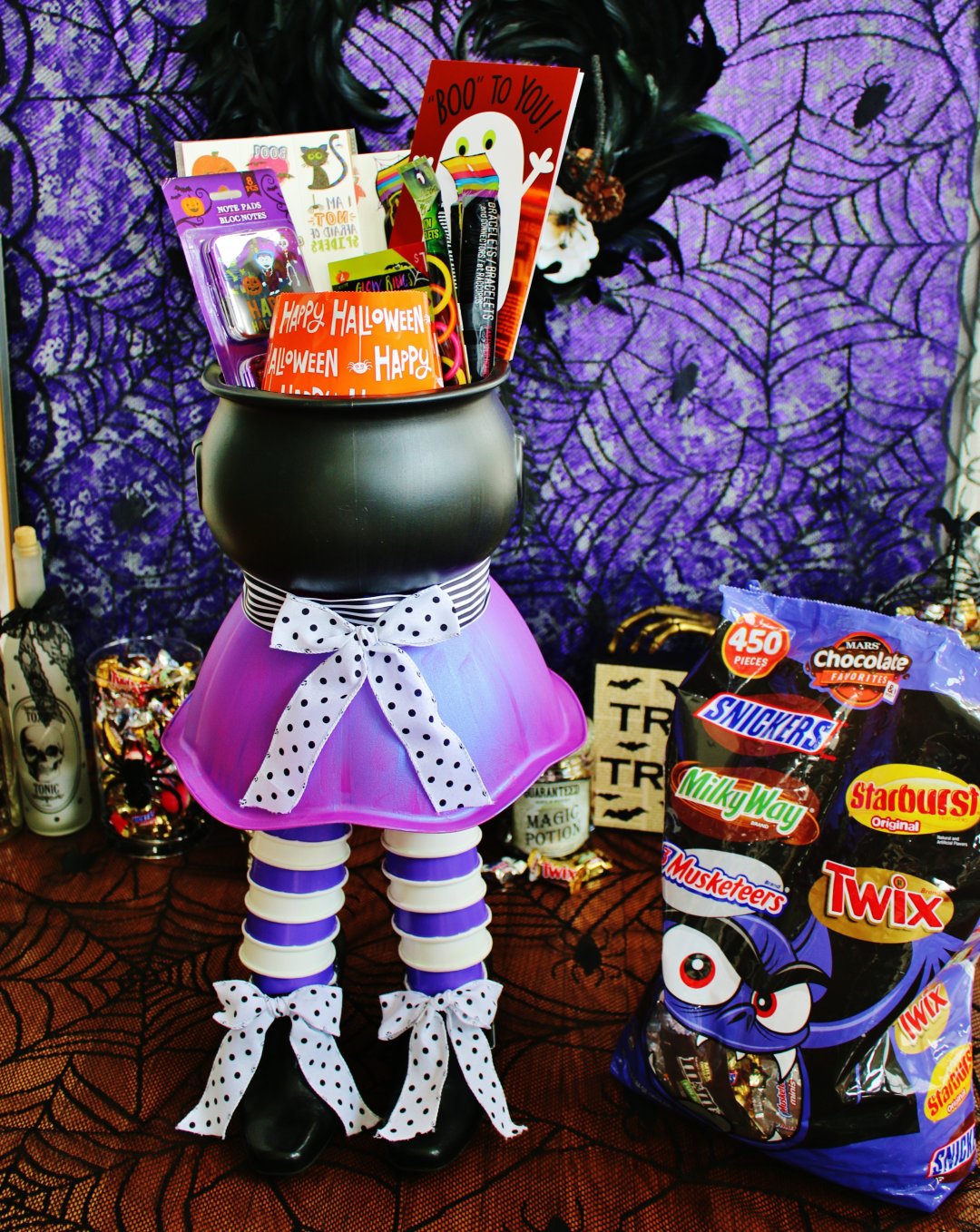 My kids and I always look forward to celebrating Halloween.
We love the decorations, the costumes, the parties and of course all the yummy candy!
We especially love all the fun neighborhood BOO'ing that goes on in our close-knit subdivision!
Part of the fun of BOO'ing your neighbors is having them try to figure out who left them the gift. We've never caught our BOO'ers sneaking up to our porch but who knows, we might get lucky this year!
One of my absolute favorite parts of being a parent is beginning to recreate some of my favorite childhood memories with my own little ones. BOO'ing your neighbors is definitely up there on my list of clean, wholesome, fun and I can't wait to share this year's Halloween project with them & keep the tradition going!
Below are a few more pictures of the Spooky Witch BOO Kit, but If you're looking for the tutorial feel free to scroll to the bottom of the post.
Now, this darling BOO kit can be
personalized
for a variety of people but we made it for our darling neighborhood. This witch is pretty simple to make but you will need a few hours time to complete it. Totally worth it, if you ask me!
Before I got started
on this spooky witch BOO kit
I picked up the last of our supplies, including
a couple of bulk sized MARS
®
bags at Sam's Club. I love buying these in bulk because the large packs allow me to get my BOO'ing essentials on a budget + saves me from making any additional trips!
Spooky Witch BOO Kit Tutorial
Supplies for the WITCH:
10 purple disposable cups

Cement or Plaster of Paris

6-skewers or wood dowels approx 12 inches long

Hot glue gun & glue sticks
Yummy Candy (MARS

®

Bat Bag 450ct & MARS

®

Mad Scientist 290ct)

Glow sticks & Glow bracelets

INSTRUCTIONS:
1. Start by stacking cups on their side & alternating by color and spacing them 1 inch apart.
2. Next, you will add hot glue to the inside seam of your purple cup and glue to the outside of the white cup (making sure to keep your desired spacing).
3. Continue to stack & glue cups until there are ten cups on each "leg".
4. Next, grab your glow in the dark paint and brush it onto the white cups.
5. Trim the excess rim from the top of the cup on each of the legs. (to create a greater surface area for when you hot glue it onto the inside of the bowl).
7. Mix Plaster of Paris/or cement with water in a spare cup & pour into boots. Place your skewered witch-legs & place the wood dowels in the boots. Let it dry.
Make sure the cup doesn't get in the plaster/cement mix. You'll secure the cups by hot gluing them to the inside of the shoes.
8. Grab your purple bowl and paint it with metallic paint.
9. Secure the bottom part of the cauldron to the purple bowl using hot glue gun.
10. Create the Witches belt by placing the striped ribbon between the space where the cauldron and bowl meet & secure using hot glue gun.
11. Adhere the top of witches leg (stacked cups) to the inside of the purple bowl using hot glue.
Now for Filling the BOO Kit!
1. Start by adding your tissue paper to allow your gifts to sit higher in the cauldron and truly shine.
2. Add a generous amount of MARS® candy into Halloween bag and place in the center of the cauldron.
4. Once your cauldron is stuffed to the rim, you're done!
Click HERE for the printer-friendly Spooky Witch BOO Kit Tutorial.
Don't forget to swing by Sams Club for all your Halloween needs! You can find MARS® Bat Bag & MARS® Mad Scientist candy

on end caps & in the candy aisle at Sams Club.

I am obsessed with the ease of shopping there, especially now that they have their Scan & Go system in place!
If you make the Spooky Witch BOO Kit, be sure to tag me so I can see your cute creations!